Download React Dashboard Templates
Introduction
Admin templates are a number of web pages that are used to design the user interface of a web application. Admin templates are built with HTML, CSS, JavaScript, or any JavaScript library. These admin templates are combined with a web application to complete backend tasks, such as website maintenance, content and user management, website software installation and configuration, track traffic data and user visits to the website, to enhance the performance of the website.
Website administration becomes an easy task by using a properly designed and simple admin template. 
In this article, we have presented a collection of some of the best react dashboard templates that are built for a wide number of projects. You can create any type of admin area, dashboard, or app interface using these templates.
These admin templates are premium products and are packed with various useful features. These features can usually be divided into components, apps, widgets, and user interface elements that are pre-built into these templates, or in the libraries ready to be added to your customised page layouts.The visual appearance of these react dashboard templates is another significant aspect. These templates are high-quality designs and have a huge variety of presentation styles. So these templates have something for everyone, regardless of design preferences.
Sing App- React Admin Dashboard Template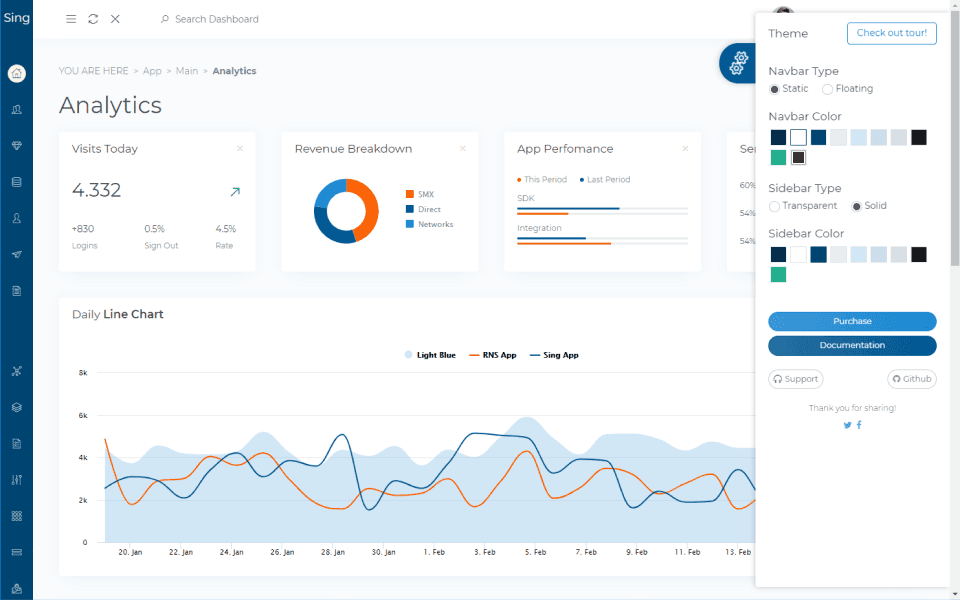 Sing App was developed to provide users with all the templates required to create any type of web application dashboard. Sing App is a contemporary and stylish set of admin templates that works magnificently with a wide range of projects. It is built using the latest version of React. Sing App can cover every page required in your project, all thanks to the number of templates in this package. You can easily modify one of the existing options to build a new design if anything is missing as the templates are easily customisable.
Sing App is a reliable tool to create admin pages for apps, software, etc. 
Jumbo- React Dashboard Template with Material-UI
Jumbo is a set of react dashboard templates built following the stylish concept of Material Design.
Your app will have a familiar look as the appearance of these admin templates is similar to the services provided by top tech companies, such as Google.
The overall appearance of your admin pages can be customised according to your personality even though these templates used the Material Design concept.
Jumbo is ideal for creating both fully featured dashboards and minimum viable products. Jumbo React dashboard template can provide you with everything you need, from beta to full release.
MaterialPro React Redux Admin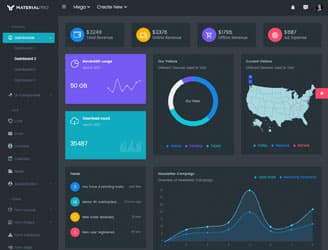 MaterialPro React Redux Admin offers five primary demos from which you can choose for your admin app or dashboard.
If you choose MaterialPro React Redux Admin for your project, you can get a good idea of how your admin app or dashboard could look by checking out the multiple demos. You can use the large template library to create the kind of dashboard or interface you want.
You will get a wide range of tables to work with, numerous styles of charts to display your data and pre-built forms that can be added quickly to your pages if you choose MaterialPro React Redux Admin.
You can check how all the elements work and how your admin app or dashboard would look like if you choose this template package by using the online demo.
Isomorphic – React Admin Template with Redux 
Isomorphic offers two main modes including one that has been designed for hotel apps and services. 
Although Isomorphic can be used to create any type of admin area or dashboard, it offers a pre-built demo that has been built for hotel projects. This option can be seen in action on the demo site of Isomorphic. 
The other demo option is a general set of admin templates designed to build admin areas and dashboards of software, apps, and other projects. Isomorphic is packed with components, templates, and element, including a wide range of charts, graphs, alert boxes and so on. 
Isomorphic is easily customisable meaning that you can tweak the design of your pages according to your preferences. Isomorphic can attract a wide range of audience with its hotel-focused option and general-purpose demo.
Gogo – React Admin Template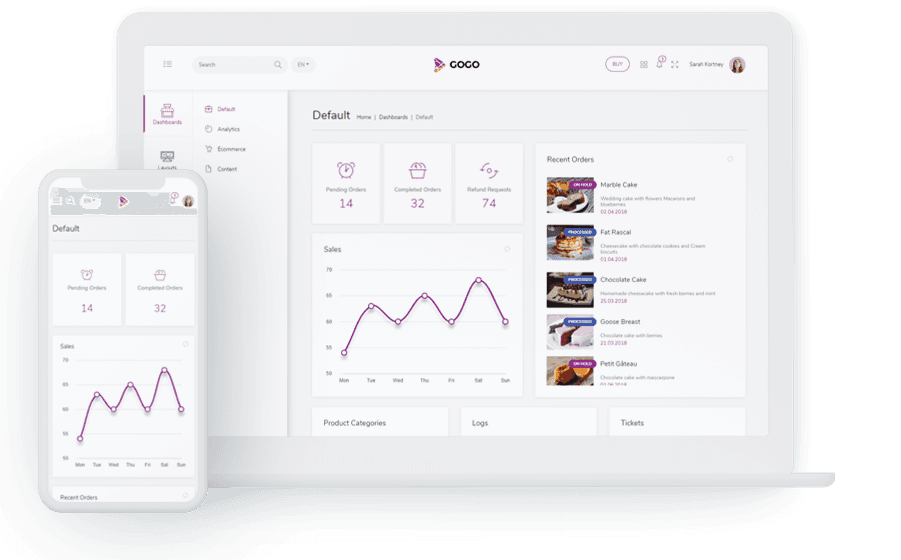 Gogo aims to deliver a React admin template that provides an outstanding combination of quality code and appealing design.
Gogo will be appealing to anyone looking for an off-the-shelf solution as well as those looking for a set of templates that can be easily customised to build a unique admin area. Gogo offers four pre-built dashboards that can be used as the foundation of a project.
Gogo includes lots of elements that can be added to your pages, such as alerts, badges, buttons, carousels, and so on. Each of the elements come in different colours and sizes. 
Gogo is worth checking out if you are looking for a set of admin templates that offer a slightly different design option.