Best Real Estate React Template
What is React template 
React templates are readymade and design code built using React technology for different purposes. React templates may contain any other framework, content management system, library, plugins. Real Estate React Templates are made for real estate business websites.  The design, content, functionality are integrated as real estate business needed. 
Real estate agents help people to find their perfect home and the best way to showcase your properties is to use a website. Every real estate agency must have a powerful website that complements the image of the business and provides all the necessary information in an easily accessible manner. 
In this article, we will share the 5 best real estate react templates that will make the task of designing a real estate website easy! 
Acres- Real Estate React Template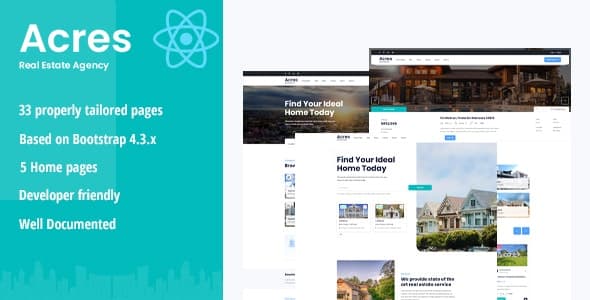 Acres is a real estate react template based on Bootstrap 4. Acres is a precise, contemporary and premium react template that can be used to build any website for multiple scenarios. 
Acres can be used to create real estate agency website, IDX sites, broker websites, interior design displays, single agent portfolio, and so much more. Acres offers all the files that are required to create a marvellous website. The templates of Acres are responsive on every screen size, this helps the user to focus on other important aspects instead of having to worry about the interface. Create something outstanding with Acres. 
ReallHomes – Real Estate & Property Agency React Template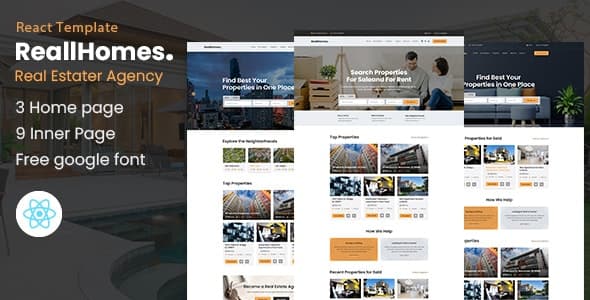 Reallhomes is a stylish, modern and appealing real estate and property agency react template. Reallhomes has a solid business design created for real estate agencies, apartment manager services, realtor bureaus, and broker firms. This template also works for single estate agents, vacation rental solutions, residential & commercial developer, real estate mortgage, house building, broker center, office rent, flat designer and property owner. This real estate template can be used as a corporate page for real estate companies, or it can be easily modified to sell single property objects. 
Castro – React Construction Template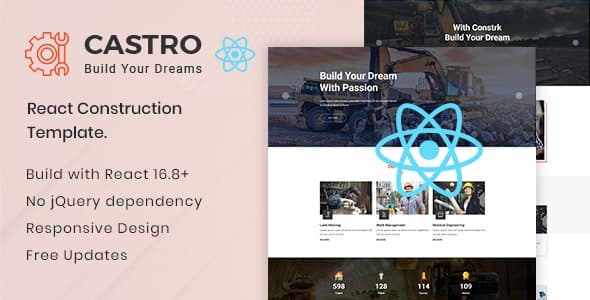 Castro – React Construction Template is an outstanding react template that is crafted with huge potential. This excellent template is specialised for websites related to construction, real estate, builders, construction materials, etc. 
Castro is built with React v16.8.6, Bootstrap 4.3.1, HTML 5, CSS3, SCSS and W3C validated markup. The effort was to make this template perfect in every single manner. Castro offers users with  3 Unique Homepages, 4 Blog pages, 3 Service Pages. In addition to that, you will find 1000+ icon font, Google Font, and so much more. The responsiveness and cross-browser compatibility of the template are the top priority of the creators. Free updates and detailed documentation is available for the convenience of the users. 
Architeck – Construction React Js Template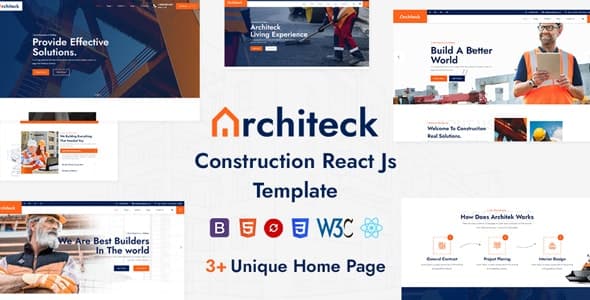 Architeck is a smooth and strong React Js Construction and Real Estate Template designed for building and construction companies. It can also be used for any sort of business. Architeck includes a wide range of customisation options and allows users to change its visual style easily. 
Architeck comes with unique and amazingly designed pre-built pages, it is the most adaptable React Js Template and can be used for both private and professional sites. The layout is stunning on any screen size, such as laptops, iPhones, Android tablets and mobiles. Architeck is completely responsive and retina ready which helps your creation to look good on any screen. 
This template is perfectly suitable for  online construction projects, startups, real estate enterprises, etc.
MaisonCo – React Single Property Template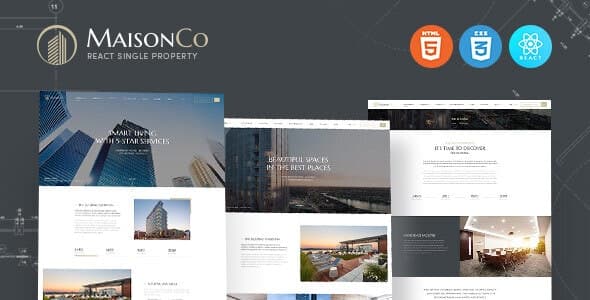 MaisonCo is specially designed for Single Property Template. MaisonCo has many demos  with numerous insights of slide animation that displays your properties in an eye-catchy manner.
MaisonCo is completely optimised on mobile and always receives a high page score to ensure that the users gain the best experience. This template provides you with a remarkable and professional support team to make sure that you do not come across any problems during the installation process.